Plans are essential to keep a trader disciplined and focused. Here we will cover the various trading styles that can be used to trade forex. Following this, we will dive deeper into specific examples of forex trading strategies commonly used by traders.
A forex trading strategy helps to provide traders with insight into when or where to buy or sell a currency pair. However, no forex trading strategy is 'best' and not all forex trading strategies were created equal, and some may work better in certain situations. Additionally, several trading strategies exist and each requires varying levels of technical and fundamental analysis.
How to develop a forex trading strategy
When choosing a forex trading strategy, it helps to be aware of what type of trader you are and what types of strategies exist. However, it is not as simple as selecting a single trading strategy, as traders can choose to employ a single strategy or combine several.
Firstly, you must define your criteria for selecting a forex trading strategy. You should analyze factors that can help narrow down your search such as:
How much time you can set aside to trading forex
What currency pairs you want to focus on
The size of your position
Whether you're going long or short (learn how to short pound sterling)
Forex trading strategies
The following forex trading strategies are utilised by traders to provide structure to their trading efforts. These strategies are not specifically designed for forex markets but are rather general strategies that can be applied to all financial markets. The strategy you decide on will correlate to the type of trader you are. Open an account to start practicing your forex trading strategies via spread bets and CFDs.
Forex scalping strategy
Forex traders who prefer short-term trades held for just minutes, or those who try to capture multiple price movements, would prefer scalping. Forex scalping focuses on accumulating these small but frequent profits as well as trying to limit any losses. These short-term trades would involve price movements of just a few pips, but combined with high leverage, a trader can still run the risk of significant losses.
This forex strategy is typically suited to those that can dedicate their time to the higher-volume trading periods, and can maintain focus on these rapid trades. High volume trading periods include:
8.00 am to 12.00 pm GMT when both New York and London exchanges are open
7.00 pm to 2.00 am GMT when both Tokyo and Sydney exchanges are open
3.00 am to 4.00 am GMT when both Tokyo and London exchanges are open
The most liquid FX currency pairs are often preferred as they contain the tightest spreads, allowing traders to enter and exit positions quickly. Some examples include:
Forex day trading
If you want to trade for short periods, but aren't comfortable with the fast-paced nature of scalping, day trading is an alternative forex trading strategy. This typically involves one trade per day, which isn't carried overnight. Profit or losses are a result of any intraday price changes in the relevant currency pair.
This type of trading would require sufficient time to research and monitor the trade, as well as a good understanding of how the economy could affect the pair you're trading. If major economic news were to hit that day, it could affect your position. Find out more about forex day trading​.
Forex swing trading
For traders who prefer a mid-term trading style where positions can be held for several days, there is swing trading, which aims to make a profit out of changes in price, by identifying the 'swing highs' or 'swing lows' in a trend.
Although this strategy normally means less time fixating on the market than when day trading, it does leave you at risk of any disruption overnight, or gapping. Learn more about swing trading strategies.
Forex position trading
The most patient traders may choose the forex position trading, which is less concerned with short-term market fluctuations and instead focuses on the long term. Position traders will hold forex positions for several weeks, months, or even years. The aim of this strategy is that the currency pair's value would appreciate over a long-term period.
Forex position trading is more suited for those who cannot dedicate hours each day to trading but have an acute understanding of market fundamentals.
Carry trade in forex
A carry trade involves borrowing from a lower interest currency pair to fund the purchase of a currency pair with a higher interest rate This strategy can be either negative or positive, depending on the pair that you are trading. The aim is to profit from the difference in interest rates or the "interest rate differential" between the two foreign currencies.
Advanced forex trading strategies
The above forex trading strategies cover general variables such as the time span a position is active, the time dedicated to researching markets and the time spent monitoring positions. This helps to distinguish when you will trade, how many positions you will open and how you will split your time between researching markets and monitoring active positions. However, the following list includes trading strategies based on important support and resistance levels that are specifically designed for the forex market.
1. Bounce strategy
Many forex traders believe levels that were important in the past could be important in the future. This follows the logic that if a market dropped to a specific level and then 'bounced' back, the market viewed this support level as a good place to buy. So, if the forex pair slips back to that level again it could, therefore, signify a potential trading opportunity.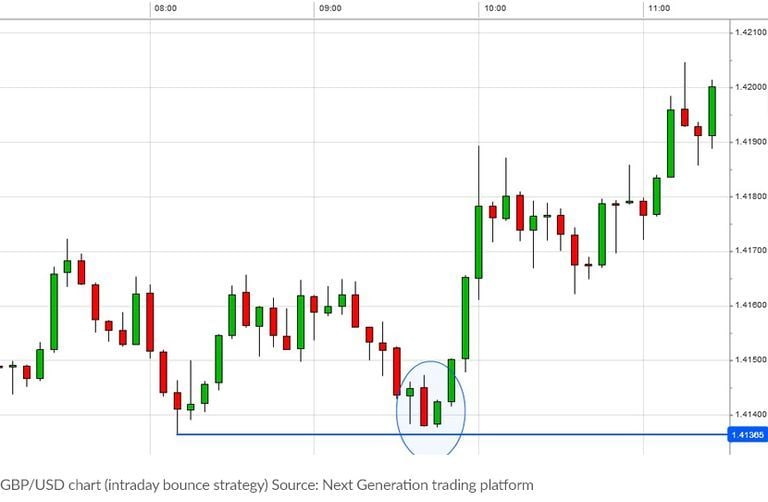 2. Running out of steam strategy
Similar to analysing support levels, forex traders also analyse resistance levels. The resistance level is a point where the market turned from its previous peak and headed back down. If a market is appreciating but then suddenly falls, the overall view is likely to be that the price is getting too expensive. This forex trading strategy mirrors the bounce strategy. We are looking for the forex pair to 'run out of steam' near that previous high and then go short and sell to try and profit from a slide in price.
Such strategies, based on previous highs and lows on a chart, can make risk management relatively straightforward for any trader. For instance, if we are looking for a bounce off a level, our stop loss can go below that previous low point. If we are looking to sell short when a market starts to falter near a previous high, then many traders will place a stop loss above that previous high.
The forex strategy example below shows how a high from the previous day in the AUD/USD currency pair ended up being the place where the market twice ran out of steam the following morning.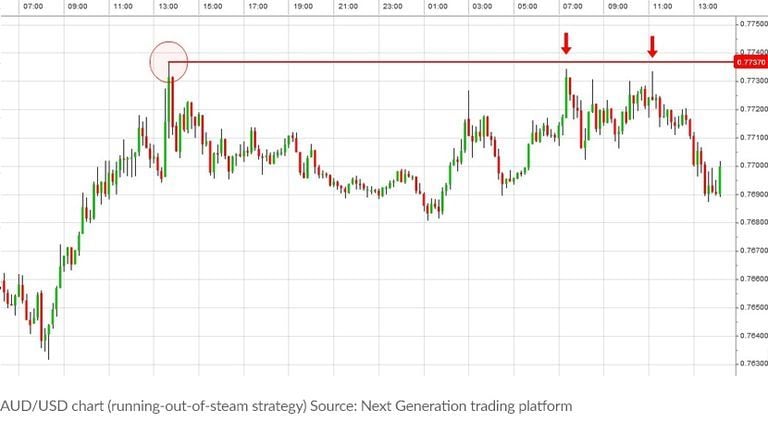 3. Breakout strategy
Resistance and support levels are dynamic and are prone to price breakouts in either direction. If the price exceeds important support or resistant levels it is likely to breakout. Many traders could view this as a potentially important change in market sentiment.
Previously when the forex pair was up at that high, the sellers moved in and the price fell, suggesting the market had reached an overvalued level. If that old high is breached, also known as breaking resistance, then something has clearly changed. Traders are now happy to keep on buying where previously they thought the price was too expensive.
This can be an effective forex trading strategy for catching new trends. Every journey starts with a single step. When direction in the markets changes then the breakout trading strategy is often one of the early signals. The example shown is for EUR/USD – a longer-term breakout on the daily charts.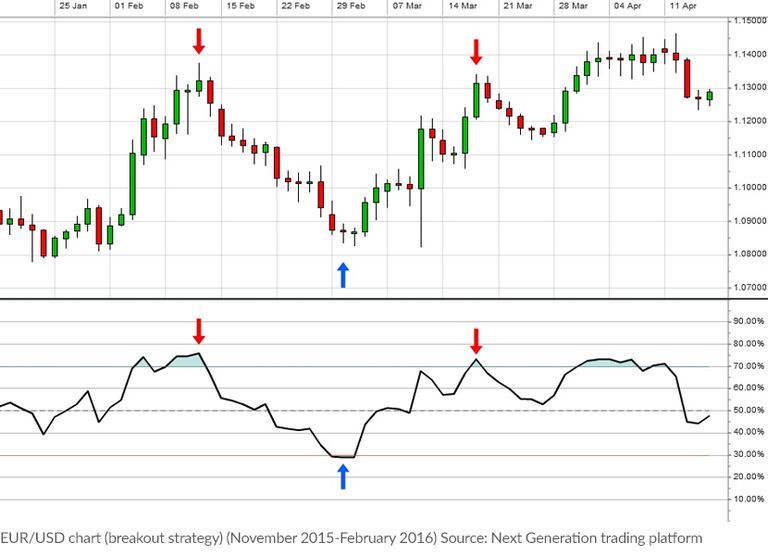 4. Breakdown strategy
Similar in function, but in the opposite direction to the breakout strategy is the breakdown strategy. This forex trading strategy is designed to jump aboard a move when a forex market slips below a previous support level. Once again, many traders could view this as a change in sentiment towards the market. Suddenly a level where buyers were happy to buy as they viewed the market as cheap and expected it to rise – has been broken. This breakthrough of what is known as a support level can be viewed as an opportunity to short sell and try to profit from further weakness in price.
The example shows USD/JPY on an hourly chart. It is an important example as it demonstrates that, in the real world, even the best forex trading strategies do not work all the time. There is a false signal (highlighted by the circle) before the effective signal (highlighted by the black arrows) that saw the market really start to fall.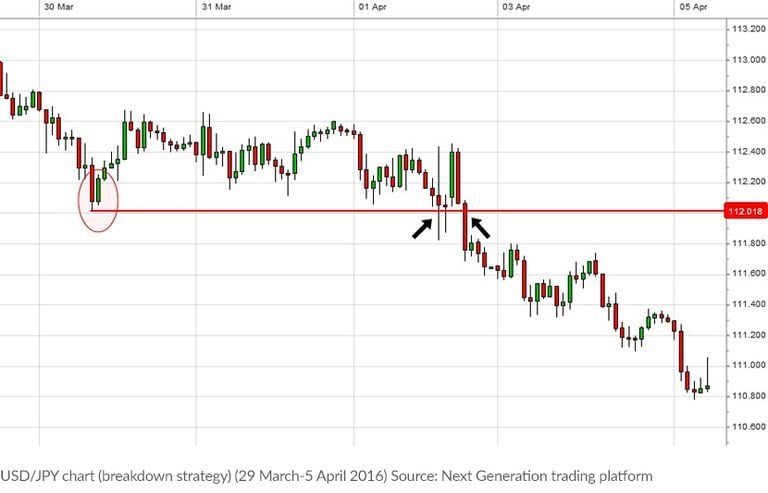 5. Overbought and oversold
The forex trading strategies mentioned so far have been based on chart patterns and the use of support and resistance levels. Our last strategy takes a more mathematical approach, using something called the Relative Strength Index (RSI). This belongs to a family of trading tools known as oscillators – so-called because they oscillate as the markets move. When the RSI is above 70%, the market is thought to be overbought. This means that it could be getting overstretched and some traders will use this as a signal to expect the market to fall back.
Oversold is when the RSI goes below 30%. Traders will be watching closely, expecting any weakness to run out of steam and the market to turn back up and use this as a buy signal. The FX example in this chart highlights some of the buy and sell signals that came from the overbought/oversold strategy on a daily EUR/USD chart.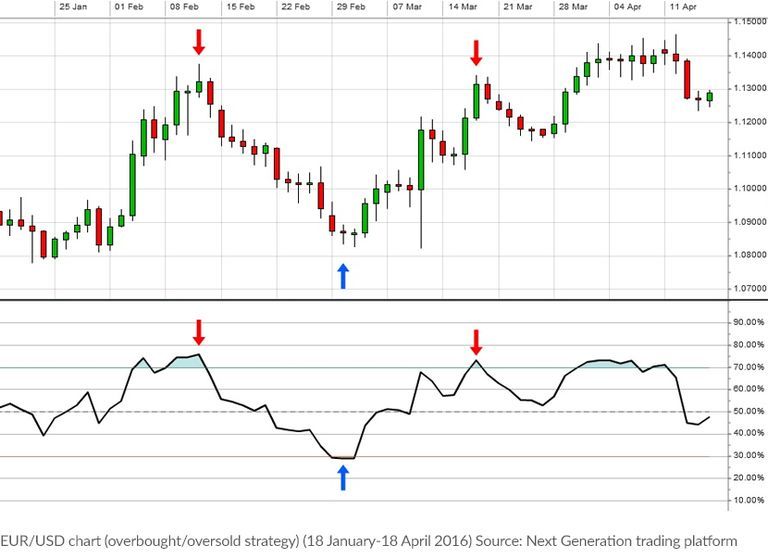 Source : cmcmarkets